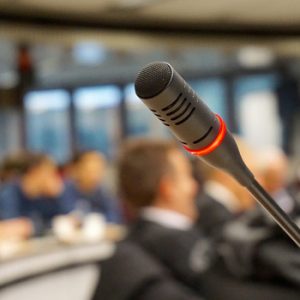 Studio Interpreti Milano interpreting services
Not to be confused with written translation, interpretation involves an interpreter translating orally for you…. Studio Interpreti Milano offers simultaneous interpreting and much more!
Interpretation is in the DNA of Studio Interpreti Milano, which has offered flexible solutions in all languages and for the most varied subjects since the 1990s. We provide the service of professional multilingual interpreters who will assist you with passion and skill at special events such as conferences, congresses, conventions, fairs, business negotiations, company visits, training courses, court hearings, board meetings and travel abroad.
Here the stars of the show are of course our interpreters, all professionals with great experience and accredited by the major international institutions, who better themselves every day with linguistic challenges of the highest level.
In addition to the much appreciated assistance of our interpreters in Milan, we will be at your side wherever you need an interpreter: in Rome, Brussels, Paris, New York and anywhere in the world: our interpreting services break down language barriers and cross national borders, thanks to the availability of a dense network of interpreters that Studio Interpreti Milano has selected over the course of thirty years.
Studio Interpreti Milano client consultation
When you contact Studio Interpreti Milano, each request is coordinated by one of our expert Project Managers, who analyses what is needed for the success of the interpreting service by considering some important factors, including: the logistical and technical conditions of the event venue, the languages to be interpreted, the number of listeners, the time available for interpretation and the topic to be discussed.
Thanks to this in-depth analysis, alongside the client the Studio Interpreti Milano Project Manager is able to define which interpretation technique to choose: it is important to remember that not all interpretation techniques can be applied on any occasion and Studio Interpreti Milano helps you to understand which of the following best suits the context of your event:
After helping the client to identify the most suitable interpretation technique, the Project Manager identifies the most suitable interpreter, including on the basis of the logistical conditions of the event, the topic to be discussed and the tenor that the interpreter will have to maintain. Studio Interpreti Milano has a pool of interpreters specialised in different topics: we will select the right interpreter for you!
After receiving a quote and confirming the service, the client is invited to provide any support material that Studio Interpreti Milano will transmit to the interpreters so they can study it and prepare for the service.
Studio Interpreti Milano will be at your complete disposal before, during and after the service, providing assistance, answering any questions and doing anything to contribute to your full satisfaction!
Ask for a quote